"You and your friends have been invited to a private concert of newly discovered music by the brilliant and demented composer, Hans Komisch, recently deceased…
This is a one-of-a-kind opportunity to venture into the realm of true genius and discover the madness behind the music. Upon entering his mansion, you realize that the invitation was a trap… you have all been transformed into ghosts! Your souls will serve as the crucial pieces to his final opus. You must defeat the inner workings of his mansion and his mind so you can recover your human forms before they get completely…
DE-COMPOSED!"
What can you expect when you come to Escape In Cook Forest at Kalyumet Fore Fun?
The 4-player interactive VR Escape Room is a one-hour experience like no other.

Using state of the art VR technology, players will engage in a fully immersive and interactive challenge.

Conquer the puzzles of this new frontier wearing VR gear, headphones with microphones and holding high-tech joy sticks.

The power of VR enables social play, so players can talk to each other, see each other's avatars and even hand-off virtual objects as they explore the virtual world.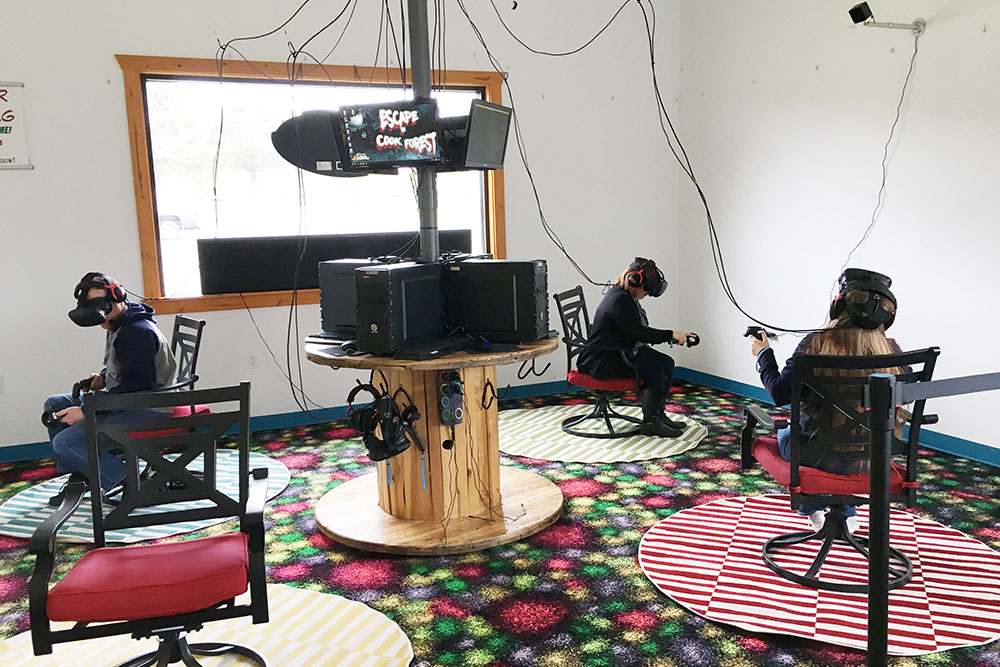 After gearing up for the game and previewing a two-minute tutorial, you will leave your body behind and be transferred into the virtual world of Stately Manor…
…As you look down you will see your shackled wrists, the long chains stretching up to the ceiling.
Luckily the keys to temporary freedom are within reach and in seconds, you're free — free to roam and unlock the mysteries within a haunted mansion.
Soon you discover you're a ghost, imprisoned and tasked with the mission of solving the secrets of this unnerving domain.
Will you and your friends be able to escape and return to your human form? THE ANSWER AWAITS WHEN YOU PLAY ESCAPE IN COOK FOREST AT KALYUMET FORE FUN.